West Side Location:
(505) 833-1964 |
East Side Location:
505) 332-1964
Edge Wood Location:
(505) 281-1964 |
Rio Rancho Location:
(505) 450-9165
For Class Schedule Click here West | East | Edgewood | Rio Rancho
Spring Special

·

4 Classes for $20!

For a limited time only! Get four introductory classes for just $20 by mentioning this web deal!

MIND
Sharpen Your Mind
Improve your Concentration and Focus
Develop Self=discipline and Perseverance.
Confidence!
BODY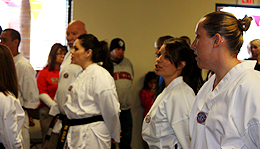 Build Muscle
Lose Fat
Increase Flexibility
Improve Circulation
Remove Toxins
Increase your Stamina
Learn to protect yourself.
Energy!
SPIRIT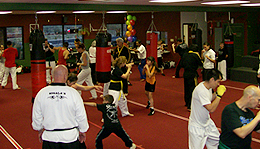 Shine from the inside out!
Honesty
Integrity
Respect
Courtesy
Indomitable Spirit.
Attitude!
Printable Coupon 1964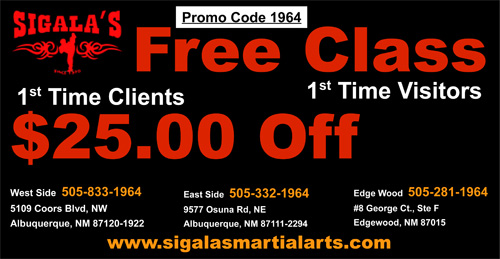 West Side Location
(505) 833-1964
841 Coors Boulevard Northwest,
Albuquerque, NM 87121
Learn More
Click Here
East Side Location
(505) 332-1964
9577 Osuna Road Northeast,
Albuquerque, NM 87111-2294
Learn More
Click Here
Edgewood Location
(505)281-1964
# 8 George Ct. Ste F
Edgewood, NM 87015
Learn More
Click Here
Rio Rancho Location
(505)450-9165
1690 Rio Rancho Blvd. Ste H
Rio Rancho, NM 87124
Learn More
Click Here
Student Reviews
The best of the best I have been going to this school for a while now, and i have to say that it has taught me self- respect, discipline, and how to defend my self... I have learned to fight scientifically and there is nothing better then that!!!!!! I would most definitely give this school a five star... You wont regret your decision, if you do decide to join this school=] The choice is yours.... "pain is temporary, glory is forever" said by a great man, (Mr. Sigala) –
Ashley Rickets
Great place I went to Sigala's for abut 6 months I really learned alot they helped me improve my boxing –
Jay Morales